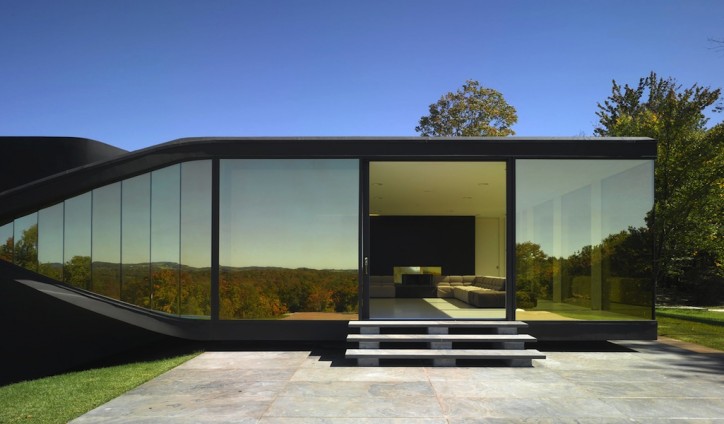 VilLA NM
A single family vacation home in Bethel, NY, VilLA NM, is not a regular house – it is a home for summers, for weekends, for time stolen from the intensity of New York City life. This is a house you share with your immediate family, with your most intimate friends.
From concept to final delivery, Caerus brought together clear vision and global talent to create a futuristic rural retreat for a family of idealistic, glamorous urbanites, set organically in the hills of upstate New York.
White and smooth, VilLA NM is a futuristic rural retreat for a family of idealistic, glamorous urbanites. Living with the landscape on top of the hill, the house affords a panoramic view over the surrounding landscape. Side walls consist of floor to ceiling windows that let in the light. On the outside, the house is colored like the earth; its windows tinted like the sky at dusk. The building captivates the landscape. Inside the cool, white, flowing spaces of the house you are part of the landscape that changes around you perpetually.
Experimental design. The conceptual model for VilLA NM is a box with a blob-like moment in the middle; a twist in both plan and section that causes a simple shoebox to bifurcate into two separate, split-level volumes.
VilLA NM is a monument to what can happen when you let go of inhibitions. It proves that the slickness of the computer age does not necessarily have to lead us to a world sanitized of sensual charms.
New York Times
In this sinuous villa on the hill in upstate New york, boundaries between private and public and spaces are blurred, and the layout twists and turns in the unexpected ways to create a stratingly modern yet calm interior.
House & Garden, UK
One side clings to the Northern slope of the hill, the other detaches itself from the ground, leaving room underneath for a covered parking space. All the internal spaces maximize the potential for wraparound views. Technically, the volumetric transition is generated by a set of five parallel walls that rotate along a horizontal axis from vertical to horizontal. The walls become floor and vice versa. The ruled surface maintaining this transition is repeated five times in the building. Standardizing and pre-fabricating of this structural element lowered the building costs without reducing the spatial quality of the interior.
Emerged as a prelude to an era of sculptural modernism, VilLA NM is one of the first elegantly executed and internationally recognized reinterpretation of the Philip Johnson Glass House.
Published in over 100 editions and electronic media world wide, principals of Caerus Group have been responsible for this iconic building from the initial concept design coordination through construction close out and interior fit out.
Project Gallery